Rolex Models
[Rolex Datejust] [Rolex Submariner] [Rolex GMT-Master] [Rolex President] [Rolex Daytona] [Rolex Questions] [Terminology]
[Model Numbers] [Movements and Calibers] [Production Dates and Serial Numbers] [Buckles and Bands] [Remove stretch from a Rolex Band]
Rolex Watch Repairs
If you have any questions about the repair of your Rolex, please call or email me.
How Often Should Your Rolex Watch be Serviced?
A common question for a watchmaker is, "How often should a mechanical watch be serviced?"
Every Rolex is manufactured and tested to the most stringent of levels. However, like a finely tuned automobile, it may require periodic servicing or "scheduled maintenance" over the life of the watch. Unfortunately, most people don't have their watches serviced until they experience a problem -thus, "if it ain't broke don't fix it." This can be an expensive philosophy.
Probably the biggest cause of watch malfunctions results from neglect. This often comes from the lubricants hardening and causing friction within the movement's gears – just imagine running your car on the same oil for 5 years! Over time, this friction can cause excessive wear to the parts and will eventually result in damage to the movement. Remember, these parts are so tiny they function within tolerances measured in thousandths of a millimeter.
Rolex recommends the watch to be cleaned and oiled every five years .
Complete Overhaul – $200
A complete overhaul includes the complete disassembly of the watch case, bracelet, and movement. The case and bracelet are ultrasonically cleaned, polished, and refinished. The process removes scuff marks and scratches.
The movement is ultrasonically cleaned, and then reassembled using recommended lubricants. Proper lubrication is an acquired skill of the watchmaker, achieved through years of practice and dedication. The movement is electronically calibrated and placed into the case. The completed watch is pressure tested to check water resistance. The watch is then subjected to a time test to assure accuracy before delivery.
Pressure Test
Most watches are water-resistant, however no watch is truly waterproof. A water-resistant watch has gaskets that help protect the case against average water pressure at a stated pressure or depth. Your watch should be pressure tested every time the case is opened to perform any inspection or service to test for potential leaks and its ability to maintain the manufacturers original pressure standards.
Why Have Your Rolex Serviced?
The longer you go between servicing, the more extensive the wear is likely to be, the more parts need replacing, the more expensive it will be. Don't necessarily rely on the watch's accuracy to determine when it should be serviced.
Why is The Watch Doctor's Price on a Rolex Repair Less Expensive than Other Repair Shops or the Factory?
My answer to this question is – why are other repair shops and the factory so overpriced? I have been a watchmaker for over 43 years and live in a small town and have a shop with low overhead. I feel that it is better to keep my prices down and do more quality watch repair for my customers and keep repeat customers, rather than overcharge on each repair. I do each repair job one at a time and pay special attention to the needs of each individual watch repair.
The Rolex factory normally charges $600-$700 for an overhaul and turnaround time varies from 4-6 weeks!
I will gladly give you names and email address of previous Rolex customers if you would like to contact them before sending your watch in for repair.
I service over 1,000 Rolex watches every year. I have the experience and knowledge to make the repairs to just about every Rolex style.
What is Done During an Overhaul of Your Rolex:
Disassembly of the watch & movement.
Ultrasonic cleaning.
Inspection for corrosion/friction fatigue.
Proper Lubrication .
Replacement of all gaskets and seals.
Water-pressure test to Rolex specs.
Timing calibration.
Polish case, band and crystal.
-4/+6 official COSC timing test
One year warranty
Your watch is completely taken apart during the overhaul process.
---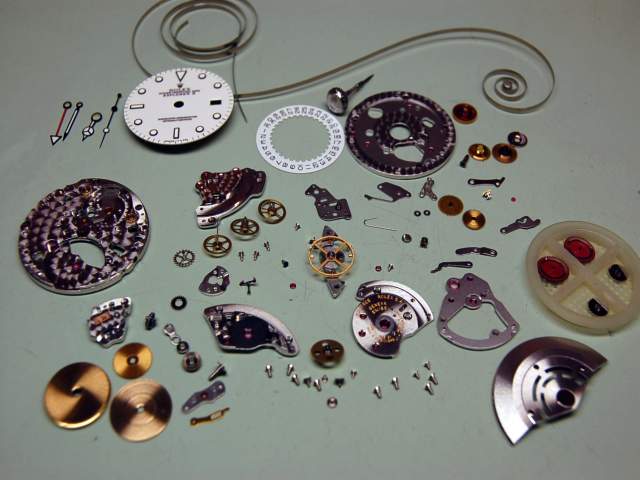 Shipping
Ship watches to:
Mark Sirianni
25 Fraley St.
Kane, PA 16735
(814) 837-9435
(814) 558-4818 (cell)
E-mail: watchdoctorpa@gmail.com