---
About Me
I am a 1977 Graduate of the Bulova School of Watchmaking in New York City and am a Certified Accutron Technician. I have been a watchmaker for the past 42 years. I now own my own jewelry/watch repair store here in Kane. My main focus is the repair and restoration of watches for my local and national customers. Customer service has always been my top priority. My national business has grown over the last few years and my main focus is the repair and restoration of Rolex watches.
I provide top quality watch repair at a very reasonable price with a quick turnaround time. I am very experienced with vintage pocket watches and evaluating those watches that can be affordably repaired. I am always available by telephone or e-mail to answer questions about your next watch repair project.
Family History
Sirianni Bros. Jewelers
Sirianni Bros. Jewelers is a second-generation family owned business specializing in sales, service and repair of fine watches, rings and other jewelry. Sirianni Bros. was founded in 1947 in Kane, Pennsylvania by my dad, the late Joe Sirianni and his brother, Louis Sirianni after serving in World War II.
Over the years, the brothers created a respected and successful business by providing an unmatched quality of service to customers in the local area. I worked at the jewelry store from 1977 until 1998. In 1998 I sold my interest in our jewelry store to my cousin Paul and started my own business.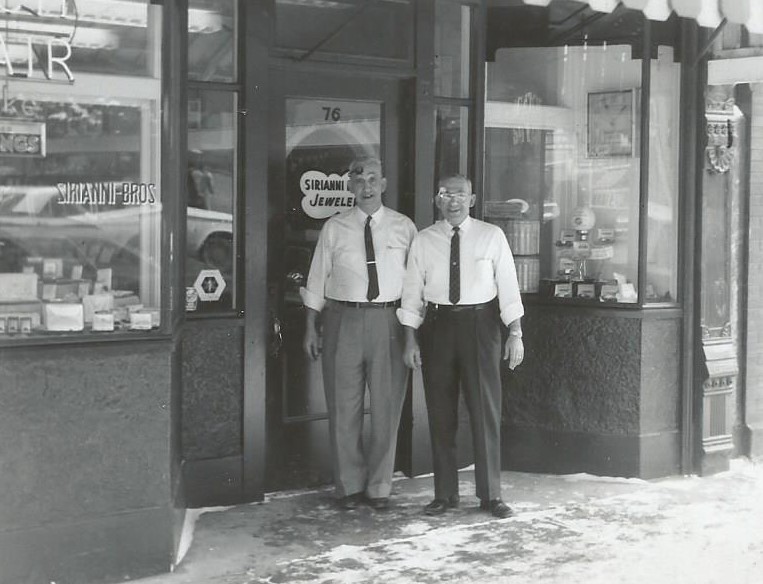 My watch repair business has given me the opportunity to spend more time with my family and also pursue my interest in being a coach. I have coached my son and daughter in rec. league soccer for many years. I was the Varsity Head Cross Country coach for 5 years and I have been the assistant High School/Middle School track coach for the past 19 years.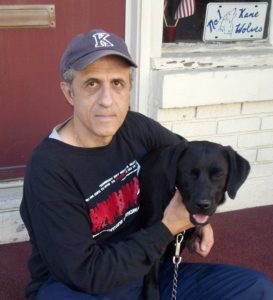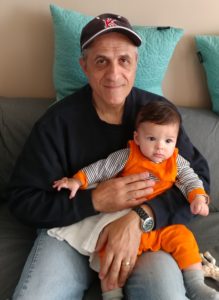 My hobbies include building and flying Radio Controlled model airplanes. I have been active in sports since High school. I have finished 12 Marathons with a personal best time of 3:11:23. I currently enjoy walking with Jan and our new black lab puppy "Charley" 4 miles every day.
Cross Country/ Track
I have been a track coach for the past 19 years and was the Head Cross Country coach for 5 years. Here are a few pictures of my runners over the years.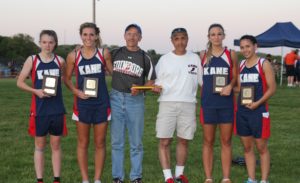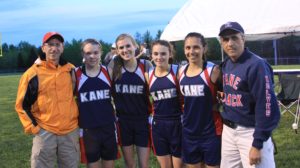 2012-2013 Back to Back District champions and School Record 4 x 400m Relay teams.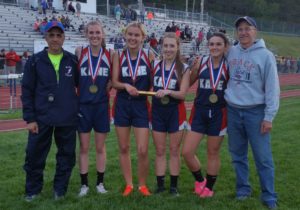 2016 4 x 400m relay team District Champs. 4 x 800 m relay second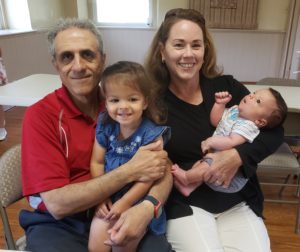 I have been married to my wife Jan for 34 years and we have 3 children and 2 grandchildren.
My Kids
Mary, 34 – Graduate of Indiana University of PA with a degree in Journalism and English. She has her Masters in English Literature. Mary and her husband Brendan are the parents of our first granddaughter Elizabeth. Mary was active in track, soccer and cross country.
Tom , 29 – Graduated from Clarion University with a degree in Library Science. Tom has been my apprentice for the past few years and is doing a great job learning the business.  During high school, Tom was a 4 year letterman in cross country and 4 year letterman in track, and a scholar athlete his senior year.
Peter 27 – Has a Bachelors Degree in Journalism and is the Digital Editor at a local newspaper. In high school, Peter was a 4 year letterman in track, soccer and basketball, and was the League Soccer All Star his senior year.