Rolex President Watch
Rolex's Day-Date Flagship Timepiece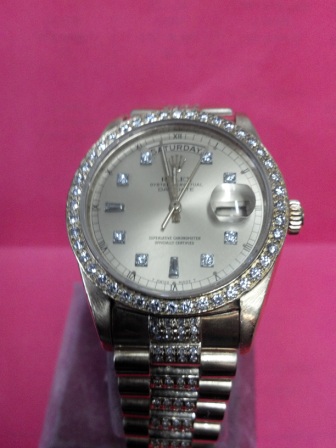 Year Introduced: 1956
First Model: 6511
First Movement: 1055
All models
Case Size: 36mm
Lug Size: 20mm
The first Day-Date (model 6511) was introduced at the Baselworld in 1956. It was an instant success, featuring the numbered date at the 3 position (aided by a cyclops lens), and the day of the week spelled out at the 12 position. The watch was available in 18kt gold or platinum, and featured a new "president" bracelet, said to be named for President Dwight D. Eisenhower after one of the watches was presented to him as a gift to celebrate his reelection.
The early models were quite large, to house the mechanics required to drive the extra day-date wheels. However, this didn't prove to be much of a problem, as it quickly became Rolex's "flagship" model. After only a year, the 6511 was replaced by the 6611 featuring a new (and improved) movement (cal 1055), and with it the first to be marked "Superlative Chronometer Officially Certified."
Over the years to follow, the watch saw very few changes, until 1972 when the "Hack" feature was added. This feature would stop the second hand when the winding stem was pulled out fully, thus allowing one to synchronize the time with another source.
In the late 1970's, Rolex introduced two new improvements to their line. First was the "Quick Set" feature, which allowed the date function to be set quickly (via the winding stem), without having to advance the hour hand past the midnight position — by 1983, all Rolex models were fitted with the "Quick Set" feature.
At this same time, Rolex began outfitting their watches with sapphire crystal. This improvement aided in the appearance, as well as the durability of the watch. The new crystal had a slimmer profile, yet was more waterproof and scratch resistant.
When Rolex completed these improvements, they began outfitting the watches with a new case reference number featuring five-digits, replacing the old four-digit number.
The next improvement to be made came in late 1990, when Rolex introduced the "Double Quick Set" feature, which now allowed both the date and day of the week to be quickly set via the winding stem.
Though the name "President" has never appeared on the dial (it was actually the bracelet that was named the 'President'), it has become common place to refer to the men's Day-Date as the "President." Furthermore, the Lady-Date just featuring a President bracelet is also called a "Lady-President."
In what is probably the most news worth event to occur within the Day-Date line in some years, Rolex recently (in 2000) released the watch with an Oyster bracelet option (model 11820/ series) — but still retains the concealed clasp we're accustomed to. The Oyster bracelet version is available in 1kt yellow, white or pink (rose) gold and is said to be the heaviest version ever offered — weighing around 30% more than other Day-Date models.
Information found from "The Rolex Report," revised and expanded 4th edition by John E. Brozek.