Common Rolex Watch Movements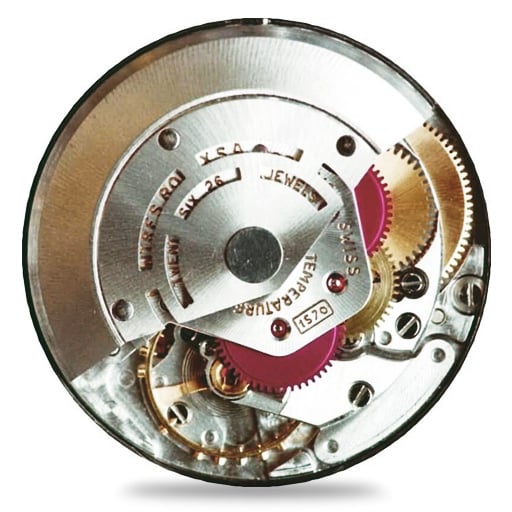 Rolex 1570 Movement
It wasn't until 1957 that Rolex developed their own in-house movement, the 1500 series. They became a mainstay of the company, remaining in production for 20 years. Both the 1560 and 1570 were COSC Certified.
To gain certified chronometer status, the calibers had to prove themselves accurate to within -4/+6 seconds a day over a 15-day period.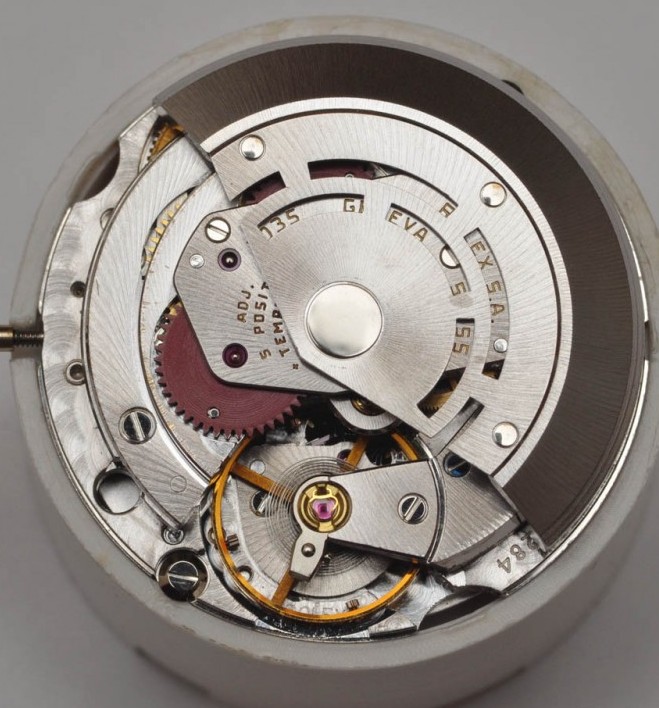 Rolex 3035 Movement
The first men's high-beat caliber Rolex had ever made. It increased the balance speed from 19,800bph to 28,800bph.
It was this new speed on the 3035, causing the seconds hand to 'tick' eight times per second.
It was the first automatic caliber to feature a quickset function.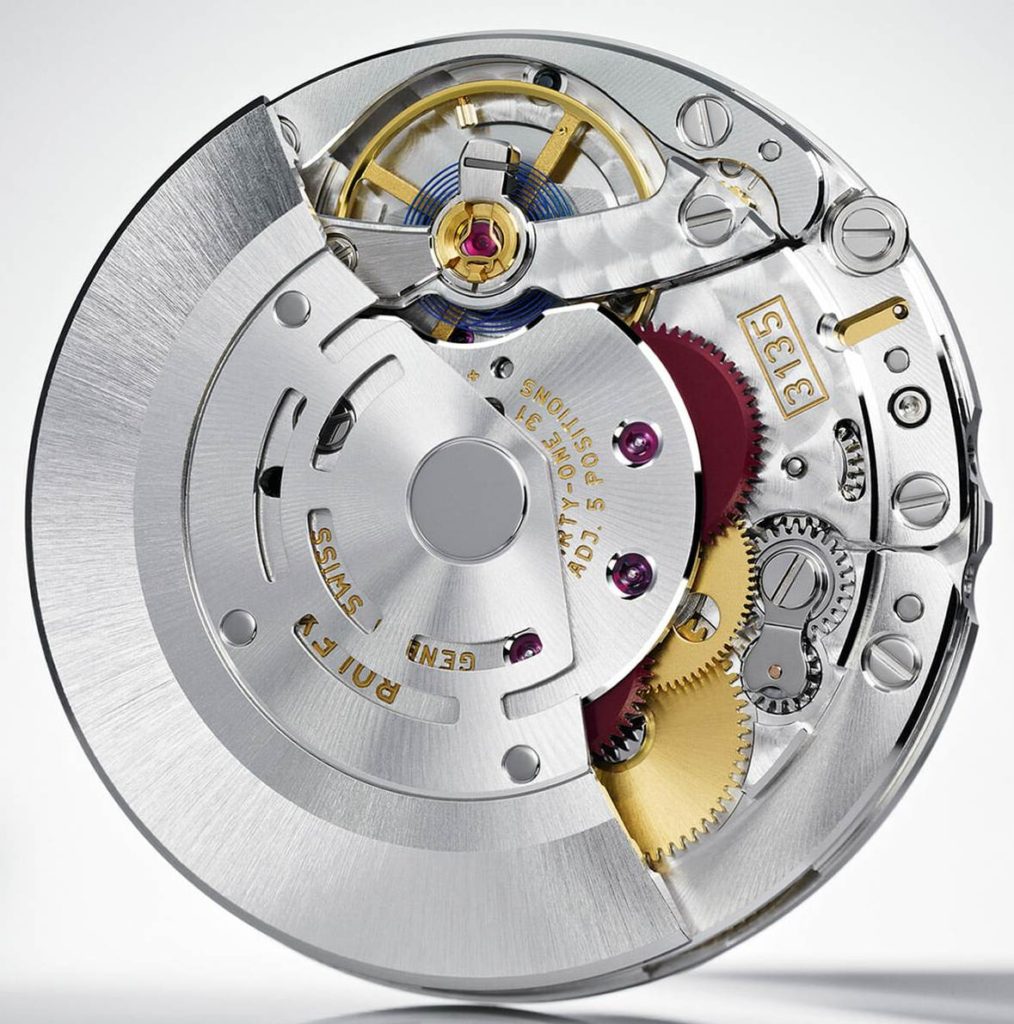 Rolex 3135 Movement
The 3135 still forms the basis of most modern Rolex movements. It includes an instantaneous date change at midnight. The 3135 is the basis for many variations.
3155 — day-date complication
3130 — no date
3131 — no date, with anti-magnetic shield
3132 — no date, with Paraflex anti-shock system
2235 — smaller with date (2236 gets an updated hairspring)
2230 — smaller without date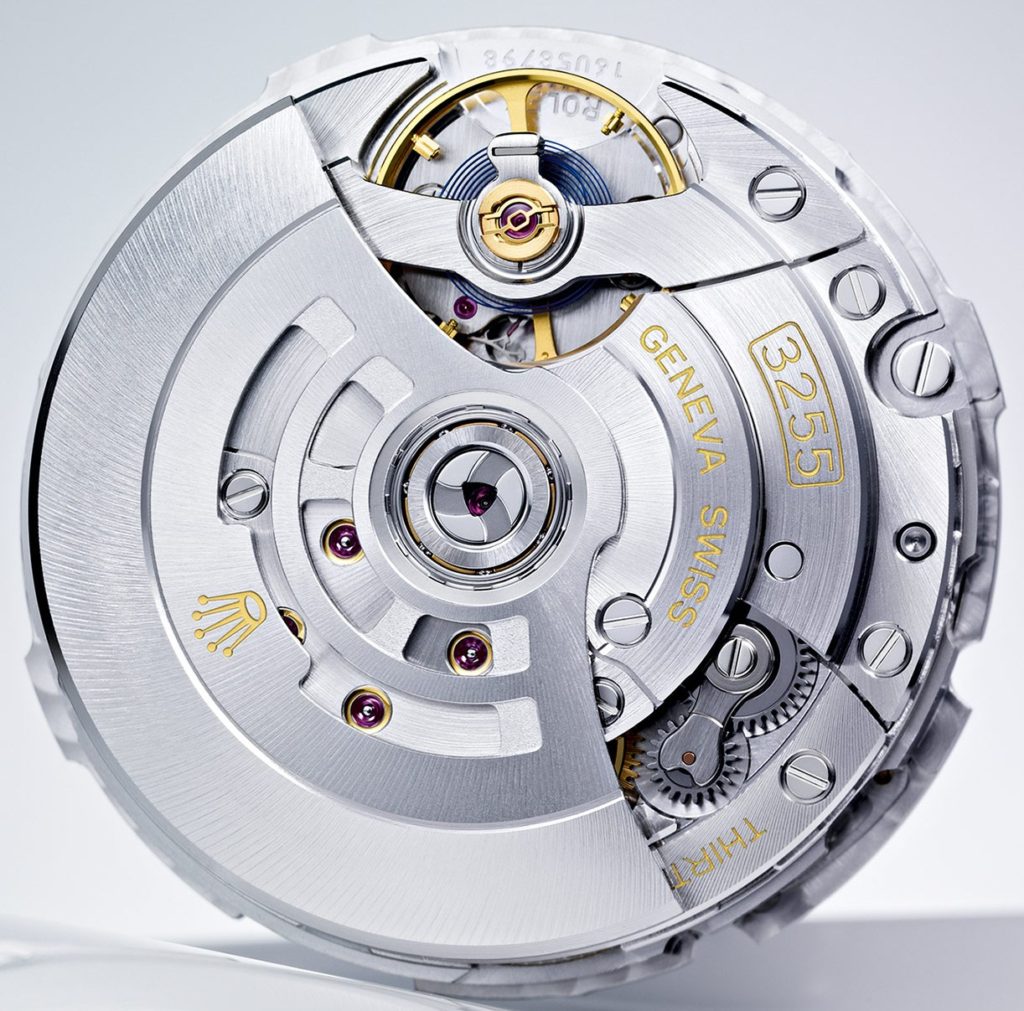 Rolex 3255 Movement
Introduced in 2015, the core technologies of the 3255 will likely soon be the basis for a majority of Rolex's movements.
Rolex claims that the 3255 handily doubles the accuracy of +6/-4 secs/day set out by Switzerland's official accuracy testing program, COSC.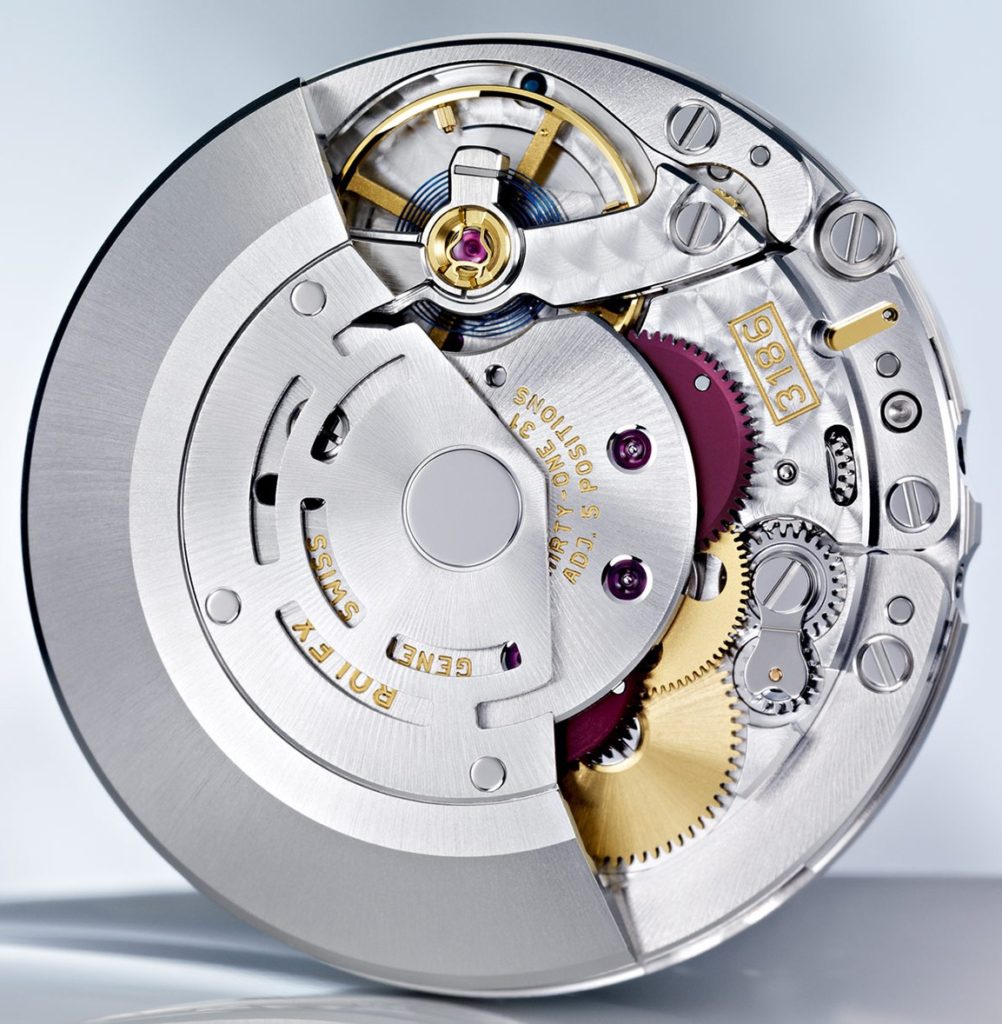 Rolex 3186 Movement
Rolex's 24-hour GMT movement (the 3187 picks up the Paraflex anti-shock system).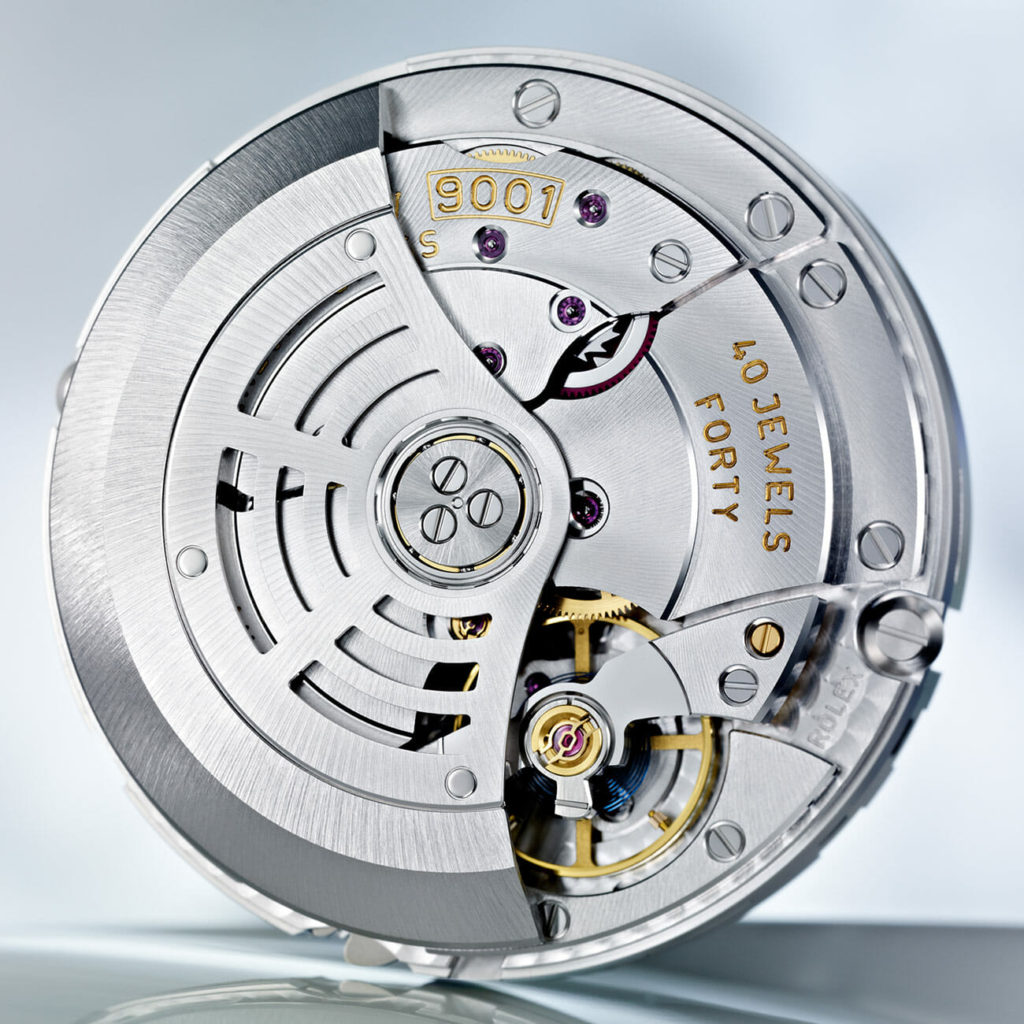 Rolex 9001 Movement
Model 9001. Rolex's most complicated movement with two time zones and an annual calendar (Sky-Dweller only)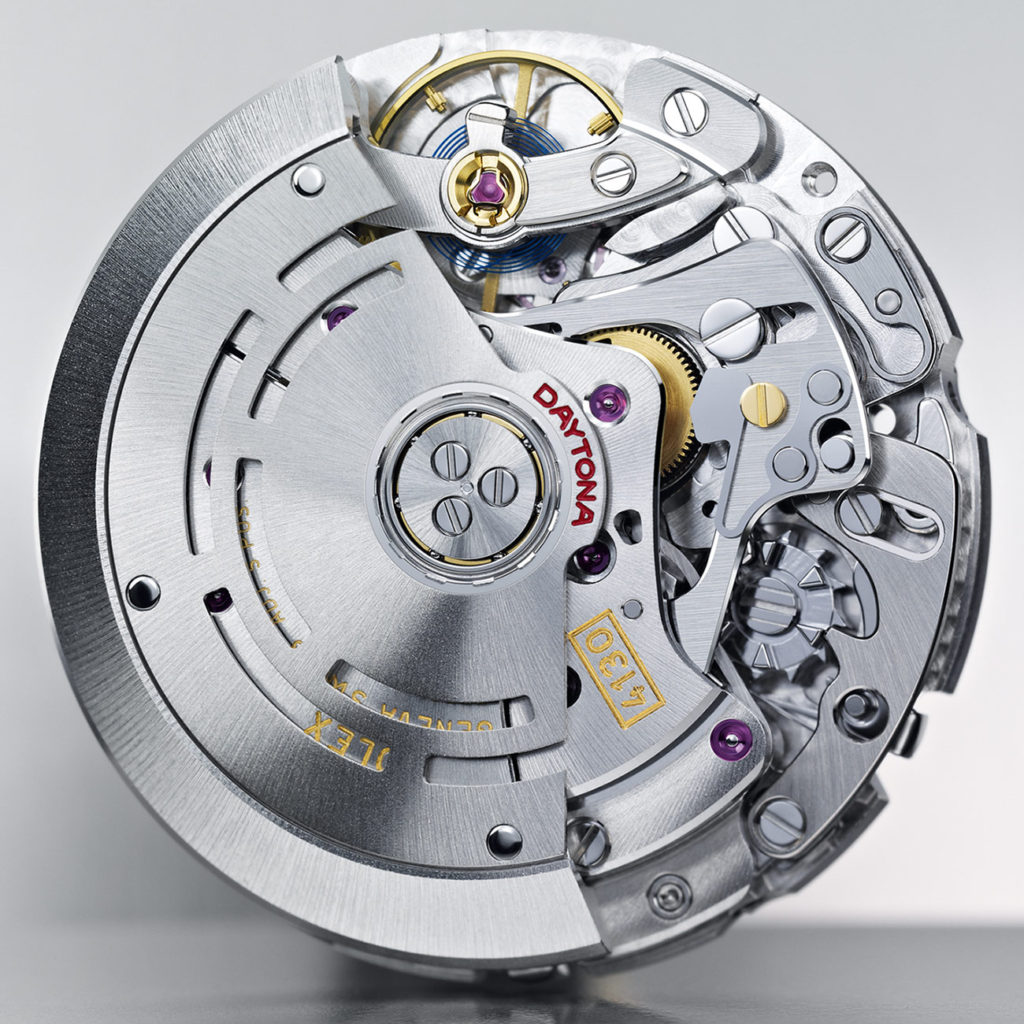 Rolex 4130 Movement
Model 4130. No-date chronograph movement (Daytona only)
---
Rolex Movements & Calibers Chart
| | | | | | | | |
| --- | --- | --- | --- | --- | --- | --- | --- |
| Movement / Caliber | Features | Caliber | Identifier | Size | Jewels | Beats / hour | Intro date |
| 23VZ | Manual wind, Chronograph w/min. recorder, round-shaped, 2-dials. | 23 | | 30mm x 5.85mm | 17J | 18,000 | 1947 |
| 13" 72A (13") | Manual wind, Chronograph w/ hr. recorder, shock protecting, round-shaped, 3 -dial. | Basic Caliber | "72A" on hub sinking o balance wheel. | 30mm x 6.95mm | 17J | 18,000 | 1961 |
| 13" 72B (13") Same as 722 | Manual wind, Chronograph w/hr. recorder, shock protecting, round-shaped, 3-dial, (hairspring protection added to 72A). | 72A 13″ | "72B" on hub sinking of balance wheel | 30mm x 6.95mm | 17J | 18,000 | 1962 |
| 13" 72BC (13") | Manual wind, Chronograph w/hr. recorder, calendar, shock protecting, round- shaped, 3-dial. | 72A 13″ | "72BC" or "72cB" on hub sinking of balance wheel. | 30mm x 6.95mm | 17J | 18,000 | 1962 |
| 13″ 72VZH (13″) | Manual wind, Chronograph w/hr. recorder, shock protecting, round-shaped, 3-dial, (start, stop & fly back to zero). | 72A 13″ | | 30mm x 6.95mm | 17J | 18,000 | 1939 |
| 13″ 72VZHC (13″) | Manual wind, Chronograph w/hr. recorder, shock protecting, round-shaped, 3-dial, (start, stop & fly back to zero). | 72A 13″ | | 30mm x 6.95mm | 17J | 18,000 | 1939 |
| | | | | | | | |
| --- | --- | --- | --- | --- | --- | --- | --- |
| REF. 90 (4-6″) | Manual wind, no seconds, rectangle-shaped. | Basic Caliber | | 10.3mm x 14.1mm | 17J | | 1950 |
| REF. 100 (4″U) [Size U.] | Manual wind, no seconds, rectangle-shaped. | Basic Caliber | | 11.3mm x 14.7mm | 17J | | 1942 |
| REF. 150 (7″U) [Size U-71] | Manual wind, no seconds, round-shaped. | 100 | | 16mm | 17J | | 1942 |
| REF. 160 (4″ 113) [Size 1131] | Manual wind, no seconds, rectangle-shaped. | 100 | | 11.3mm x 14.7mm | 17J | 17,886 | 1945 |
| REF. 161 (4″ 113) | Manual wind, no seconds, rectangle-shaped. | 100 | "161" on plate, lateral edge. | 11.3mm x 14.7mm | 17J | 18,000 | 1947 |
| REF. 170 (4 1/4″) M. Baguette | Manual wind, no seconds, long rect-shaped. | Basic Caliber | | 10mm x 24mm | 17J | | 1938 |
| REF. 180 (5″F) [Size F.] | Manual wind, no seconds, long rect-shaped. | Basic Caliber | | 11.8mm x 20.9mm | 17J | | 1943 |
| REF. 190 (4″) | Manual wind, no seconds, rectangle-shaped. | 160 | "190" on hub sinking of balance wheel. | 11.3mm x 14.7mm | 17J | 18,000 | 1950 |
| REF. 191 (4″) | Manual wind, no seconds, shock protecting, rectangle-shaped. | 160 | "191" on hub sinking of balance wheel. | 11.3mm x 14.7mm | 17J | 18,000 | 1952 |
| REF. 192 (4″) | Manual wind, no seconds, shock protecting, rectangle-shaped. | 160 | "192" on hub sinking of balance wheel. | 11.3mm x 14.7mm | 17J | 21,600 | 1952 |
| REF. 193 (4″) | Manual wind, no seconds, shock protecting, rectangle-shaped. | 160 | "193" on hub sinking of balance wheel. | 11.3mm x 14.7mm | 17J | 21,600 | 1956 |
| | | | | | | | |
| --- | --- | --- | --- | --- | --- | --- | --- |
| REF. 200 (6/4″) [Size T: oval R: rect. 1] | Manual wind, no seconds, oval (or) rectangle-shaped (cut-corners). | Basic Caliber | | 15.2mm x 24.6mm | 17J | | 1937 |
| REF. 210 (6/4″) [Size oval.] | Manual wind, sweep-seconds, oval (or) rectangle-shaped (cut-corners). | 200 | | 15.2mm x 24.6mm | 17J | | 1938 |
| REF. 250 (5 1/4″) [Size 0.] | Manual wind, no seconds, oval-shaped. | Basic Caliber | | 13.5mm x 22.5mm | 15J | | 1938 |
| REF. 270 (6″) | Manual wind, no seconds, round-shaped. | Basic Caliber | | 13.5mm | 17J | 18,000 | 1940 |
| REF. 280 (6″) | Manual wind, no seconds, round-shaped. | 270 | "280" on hub sinking of balance wheel. | 13.5mm | 17J | 21,600 | 1950 |
| REF. 281 (6″) | Manual wind, no seconds, round-shaped. | 270 | "281" on hub sinking of balance wheel. | 13.5mm | 17J | 21,600 | 1955 |
| REF. 282 (6″) | Manual wind, no seconds, shock protecting, round-shaped. | 270 | "282" on hub sinking of balance wheel. | 13.5mm | 17J | 21,600 | 1958 |
| REF. 300 [Size T.S.] | Manual wind, Chronometer, small seconds, rectangle-shaped. | 270 | | 16.9mm x 32.7mm | 18J | | 1932 |
| REF. 310 [Size T.S.] | Manual wind, Chronometer, sweep-seconds, rectangle-shaped. | 300 | | 16.9mm x 32.7mm | 18J | | 1932 |

REF. 350
[Size T.S.]

Manual wind, Chronometer, small seconds, jump hour dial, rectangle-shaped.
300
16,9mm
x
32,7mm
18J
1932
REF. 360
[Size F-LW.]
Manual wind, Chronometer, small seconds, rectangle-shaped.

Basic
Caliber
18mm
x
27mm
18J
1937
REF. 400
(7¼") [Size7%"-H.]
Manual wind, small seconds, round-shaped.
Basic Caliber
17,2mm
17J
1941
REF. 270 (6″)
Manual wind, no seconds, round-shaped.
Basic Caliber
13.5mm
17J
18,000
1940
REF. 420
(7¼")
[Size P.A.]
Self wind, small seconds, round-shaped.
400
(replaced
by 1120)
19,4mm
18J
1941
1935
REF. 500
(8/4")
[Size8%"H.l
Manual wind, small seconds, precision, round-shaped.
Basic
Caliber
19,4mm
17J
REF. 510 (8/4")
[Size 83/4"_H.]
Manual wind, sweep-seconds, precision, round-shaped.
500
19,4mm
17J
1935
REF. 520
(8/4")
[Size AR] ]
Self wind, small seconds, round-shaped.
500

24mm

18J
1936
REF. 530 (8/4")
[Size AR.]
Self wind, sweep-second, round-shaped
500
24mm
17J
1936
REF. 600
(93/4)
[Size 9¼" Hunter Patent]
Manual wind, small seconds, round-shaped.
Basic Caliber
21,7mm
17J
1933
REF. 620
(9¼")
[Size NA.]
Self wind, Chronometer, small seconds, round-shaped.
600
26,4mm
18J
1936

REF. 635
(93/4)
[Size A.260]
Self wind, small seconds, shock protecting, round-shaped.
600
26,4rrim
18J
1950
REF. 640
(9¼")
[Size A 260]
Self wind, sweep-seconds,
moonphase, calendar, round-shaped.
635
26,4mm
18J
1950
REF. 645
(9¼")
[Size A.260]

Self wind, sweep-seconds, shock protecting, round-shaped.

635
26,4mm
18J
1950
REF. 650
Manual wind, ultra-slim, no seconds, round-shaped.
Basic
Caliber
"650"
on train wheel
bridge.
20,8mm
x
1,80mm
17J
18,000
1958
REF. 651
Manual wind, ultra-slim,no seconds, round-shaped.
650
"651"
on train wheel
bridge
20,8mm
x
1,80mm
18J
21,600
1978
REF. 700
(10 1/2")
[Size 10 1/2 – 11]
Manual wind, Chronomete, small seconds, round-shaped.
Basic
Caliber
23,4mm
18J
1938
REF. 710
(low")
[Size i0Vz"41]
Manual wind, sweep-seconds, precision, round-shaped.
700
23,4mm
17J
1938

REF. 720
(by2")
[Size A.2951
Self wind, Chronometer,
small seconds, shock protecting, round-shaped.

Basic
Caliber

29,5mm

18J
1945
REF. 722
(l0/2")
Same as
72B
Manual wind, Chronograph w/ hr. recorder, shock protecting, round-shaped, 3-dial
500
24mm
17J
1936
REF. 730
(IOW")
[Size A. 295]
Self wind, chronometer, sweep-seconds, shock protecting, round-shaped.
720
29,5mm
18J
1945
REF. 740
(IOW")
[Size A.295]
Self wind, Chronometer, sweep seconds, round-shaped.
720-730
29,mm
18J
1950

REF. 745
(1 0'/2′)
[Size A.295]
Self wind, sweep-seconds, calendar, round-shaped.
720-740
29,5mm
181
1950
REF. 750
(10'/2")

Manual wind, pocket watch, round-shaped.
Basic Caliber
35,64mm x 1,90mm
20J
21,000
REF. 760
(9¼")

Manual wind, sweep-seconds, calendar, round-shaped.

710
29,5mm
18J
1950
REF. 765 (10 '/2″) [Size A,296]
Self wind, sweep-seconds, calendar, round-shaped.
29,5mm
18J
1950
REF. 775 (101/2″) [Size A.296]



Self wind, sweep-seconds, shock protecting, , round-shaped.
720
29,5
mm

18J
1950
REF. 780
(IOW")
[Size D.D.]

Self wind, sweep-seconds,shock protecting, round-shaped.
29,5mm
18J
1950
REF. 800 (10′,4″) [Size D.D.]
Manual wind, chronometer, small seconds, shock protecting, pocket watch, round-shaped.
Basic Caliber
29,5mm
17J
1934

REF. 850 (101/2″) [Size D.D.1]
Manual wind, Chronometer,
small seconds, shock protecting, pocket watch, round-shaped.
800

29,5mm

17J
1934
1000
Manual wind, small seconds, shock protecting, round-shaped.
1030
"1000" on hub sinking of balance wheel.
28,5mm x 3,45mm
18J
18000
1955
1030
Self winding, sweep-seconds, shock protecting, round-shaped.
Basic Caliber
"1030" on bridge for self-winding mechanism.
28,5mm x 5,85mm
17J/25J
18,000
1950
1035
Self winding, sweep seconds, shock protecting, progressive calendar, round-shaped.
1030
"1030" on bridge for self-winding mechanism
28,5 x 6,66mm
25J
18,000
1957
1036
Self wind, sweep-seconds, shock protecting, instant-calendar, round-shaped.
1030
"1030" on bridge for self-winding mechanism.
28,5 x 6,26mm
253
18,000
1957
1036 GMT
Self wind, sweep-seconds, shock protecting, instant-calendar, round-shaped.
1030
"1030" on bridge for self-winding mechanism.
28,5mm x 6,44mm
25J
18,000
1957
1040

Self wind, jumping sweep-seconds, shock protecting, round-shaped.

1030
"1040" on bridge for self-windingmechanism.
28,5 x 6,47mm
253
18,000
1954
1055
Self wind, sweep-seconds, shock protecting, day-date (Pres.), round-shaped.
1030
"1055" on bridge self winding mechanism.
28,5mm x 7,00mm
25J
18,000
1954
1055B



Self wind, sweep-seconds, shock protecting, day-date (Pres.), round-shaped (dial plate diff from 1055).
1030
"1055B" on bridge for self-winding mechanism.
28,5mm x 7,10
mm

253
18,000
1954
1065

Self wind, sweep-seconds, shock protecting, round-shaped.
1030
"1065" on bridge for self-winding mechanism.
28,5mm x 6,25mm
25J
18,000
1955
1065 GMT
Manual wind, sweep-seconds, calendar, 12/24 hr hand, shock protecting, round-shaped.
1030
"1065" on bridge for self-winding mechanism.
28,5mm x 6,44mm
25
J
18,000
1957

1065M Same as 1080
Self wind, sweep-seconds,
shock protecting, anti-magnetic, round-shaped.
1030
"1065M" on bridge for self-winding mechanism.

28,5mm x 5,85mm

25J
18,000
1955
1066
Self wind, sweep-seconds, shock protecting, instant-calendar, round-shaped.
1030
"1066M" on bridge for self-winding mechanism
28,5mm x 6,25mm
25J
18,000
1957
1066 GMT
Self wind, sweep-seconds, calendar, 12/24 hr hand, shock protecting, round-shaped.
1030
"1066" on bridge for self-winding mechanism.
28,5mm x 6,44mm
25J
18,000
1957
1066M
Self winding, sweep seconds, shock protecting, anti-magnetic, round-shaped.
1030
"1066M" on bridge for self-winding mechanism
28,5 x 5,85mm
25J
18,000
1955
1036
Self wind, sweep-seconds, shock protecting, instant-calendar, round-shaped.
1030
"1030" on bridge for self-winding mechanism.
28,5 x 6,26mm
253
18,000
1957
1036 GMT
Self wind, sweep-seconds, shock protecting, instant-calendar, round-shaped.
1030
"1030" on bridge for self-winding mechanism.
28,5mm x 6,44mm
25J
18,000
1957
1040

Self wind, jumping sweep-seconds, shock protecting, round-shaped.

1030
"1040" on bridge for self-windingmechanism.
28,5 x 6,47mm
253
18,000
1954
1055
Self wind, sweep-seconds, shock protecting, day-date (Pres.), round-shaped.
1030
"1055" on bridge self winding mechanism.
28,5mm x 7,00mm
25J
18,000
1954
1055B



Self wind, sweep-seconds, shock protecting, day-date (Pres.), round-shaped (dial plate diff from 1055).
1030
"1055B" on bridge for self-winding mechanism.
28,5mm x 7,10
mm

253
18,000
1954
1065

Self wind, sweep-seconds, shock protecting, round-shaped.
1030
"1065" on bridge for self-winding mechanism.
28,5mm x 6,25mm
25J
18,000
1955
1080, Same as 1065M
Self wind, sweep-seconds, shock protecting, anti-magnetic, round-shaped.
1030
"1080" on bridge for self-winding mechanism.
28,5mm x 5,85mm
25J
18,000
1955
1100 71/2
Manual wind, small seconds, shock protecting, round-shaped.
Basic Caliber
"1100" on hub sinking of balance wheel.
17,7mm x 3,05mm
18J
19,800
1954
1120
Self wind, small seconds, shock protecting, round-shaped
Basic Caliber
"1120" on bridge for self-winding mechanism.
20,0mm x 5,25mm
17/27J
19,800
1953
1130
Self wind, sweep-seconds, shock protecting, round-shaped.
1120
"1130" on bridge for self-winding mechanism.
20,0mm x 5,40mm
26J
19,800
1955
1135
Self wind, sweep-second
s, progress-calendar, round-shaped.
1120
"1130" on bridge for self-winding mechanism.
20,0mm x 5,90mm
26J
19,800
1955
1160
Self wind, sweep-seconds, shock protecting, round-s haped.
1120
"1160" on bridge for self winding mechanism.
20,0mm x 5,40mm
26J
19,800
1964
| | | | | | | | |
| --- | --- | --- | --- | --- | --- | --- | --- |
| 1161 | Self wind, sweep-seconds, shock protecting, round-shaped. | 1120 | "1161" on bridge for self winding mechanism. | 20,0mm x 5,40mm | 26J | 19,800 | 1964 |
| 1165 | Self wind, sweep-seconds, progress-calendar, shock protecting, round-shaped. | 1120 | "1160" on bridge for self-winding mechanism. | 20,0mm x 5,90mm | 26J | 19,800 | 1965 |
| 1166 | Self wind, sweep-seconds, progress-calendar, shock protecting, round-shaped. | 1120 | "1161" on bridge for self-winding mechanism. | 20,0mm x 5,90mm | 26J | 19,800 | 1967 |
| 1200 | Manual wind, small seconds, shock protecting, round-shaped. | 1210 | "1200" on hub sinking of balance wheel. | 23,8mm x 3,65mm | 17J | 18,000 | 1961 |
| 1210 | Manual wind, sweep-seconds, shock protecting, round-shaped. | Basic Caliber | "1210" on hub sinking of balance wheel. | 23,8mm x 4,27mm | 18J | 18,000 | 1954 |
| 1215 | Manual wind, sweep-seconds, Oysterdate-cal, shock protecting, round-shaped. | 1210 | "1210" on hub sinking of balance wheel. | 23,8mm x 5,07mm | 18J | 18,000 | 1954 |
| 1216 | Manual wind, sweep-seconds, Oysterdate-cal, shock protecting, round-shaped. | 1210 | "1216" on hub sinking of balance wheel. | 23,8mm x 5,07mm | 17J | 18,000 | 1954 |
| 1220 | Manual wind, sweep-seconds, shock protecting, round-shaped. | 1210 | "1225" on hub sinking of balance wheel. | 23,8mm x 4,27mm | 17/18J | 21,600 | 1957 |
| 1225 | Manual wind, sweep-seconds, Oysterdate-cal, shock protecting, round-shaped. | 1210 | "1225" on hub sinking of balance wheel. | 23,8mm x 5,07mm | 17/18J | 21,600 | 1967 |
| | | | | | | | |
| --- | --- | --- | --- | --- | --- | --- | --- |
| 1300 | Manual wind, no seconds, shock protecting, diamond-shaped. | Basic Caliber | "1300" on hub sinking of balance wheel. | 17,8mm x 15,3mm x 3,48mm | 17J | 18,000 | 1956 |
| 1310 | Manual wind, sweep-seconds, shock protecting, diamond-shaped. | 1300 | "1310" on hub sinking of balance wheel. | 17,8mm x 15,3mm x 3,95mm | 18J | 18,000 | 1956 |
| 1315 | Manual wind, sweep-seconds, calendar, shock protecting, diamond-shaped. | 1300 | "1315" on hub sinking of balance wheel. | 17,8mm x 13,5mm x 4,35mm | 17J | 18,000 | 1956 |
| 1400 | Manual wind, no seconds, shock protecting, round-shaped. | Basic Caliber | "1400" on hub sinking of balance wheel. | 13,75mm x 3,23mm | 15J | 21,600 | 1960 |
| 1401 | Manual wind, no seconds, shock protecting, round-shaped. | 1400 | "1401" on hub sinking of balance wheel. | 13,75 x 3,23mm | 15J | 21,600 | 1960 |
| 1520 | Self wind, sweep-seconds, (hack after '72), shock protecting, round-shaped. | 1530 | "1520" on hub sinking of balance wheel | 28,5mm x 5,75mm | 26J | 19,800 | 1963 |
| 1525 | Self wind, sweep-seconds, (hack after '72), progress-calendar, shock protecting, round-shaped. | 1530 | "1520" on hub sinking of balance wheel. | 28,5mm x 6,30mm | 26J | 19,800 | 1965 |
| 1530 | Self wind, sweep-seconds, shock protecting, round-shaped. | Basic Caliber | "1530" on bridge of self-winding mechanism. | 28,5mm x 6,30mm | 17/26J | 18,000 | 1957 |
| 1535 | Self wind, sweep-seconds, progress-calendar, shock protecting, round-shaped. | 1530 | "1530" on bridge of self-winding mechanism. | 28,5mm x 6,30mm | 26J | 18,000 | 1957 |
| | | | | | | | |
| | | | | | | | |
| --- | --- | --- | --- | --- | --- | --- | --- |
| 1536 | Self wind, sweep-seconds, progress-calendar, shock protecting, round-shaped. | 1530 | "1530" on bridge of self-winding mechanism. | 28,5mm x 6,30mm | 26J | 18,000 | 1964 |
| 1555 | Self wind, sweep-seconds, day-date (Pres.), shock protecting, round-shaped. | Basic Caliber | "1555" on bridge of self-winding mechanism. | 28,5mm x 7,03mm | 26J | 18,000 | 1959 |
| 1556 | Self wind, sweep-seconds, (hack after '72), day-date (Pres.), shock protecting, round-shaped. | 1530 | "1556" on bridge of self-winding mechanism. | 28,5mm x 7,03mm | 26J | 19,800 | 1965 |
| 1560 | Self wind, sweep-seconds, shock protecting, round-shaped. | 1530 | "1560" on bridge of self-winding mechanism. | 28,5mm x 5,75mm | 26J | 18,000 | 1965 |
| 1565 | Self wind, sweep-seconds, instant-calendar, shock protecting, round-shaped. | 1530 | "1560" on bridge of self-winding mechanism. | 28,5mm x 6,30mm | 26J | 18,000 | 1959 |
| 1565 GMT | Self wind, sweep-seconds, instant-calendar, shock protecting, round-shaped. | 1530 | "1560" on bridge of self-winding mechanism. | 28,5mm x 6,30mm | 26J | 18,000 | 1962 |
| 1570 | Self wind, sweep-seconds, (hack after '72), shock protecting, round-shaped. | 1530 | "1570" on bridge of self-winding mechanism. | 28,5mm x 5,75mm | 26J | 19,800 | 1965 |
| 1575 | Self wind, sweep-seconds, (hack after '72), instant-calendar, shock protecting, round-shaped. | 1530 | "1570" on bridge of self-winding mechanism. | 28,5mm x 6,30mm | 26J | 19,800 | 1965 |
| | | | | | | | |
| --- | --- | --- | --- | --- | --- | --- | --- |
| 1575 GMT | Self wind, sweep-seconds, (hack after '72,), instant-calendar, shock protecting, round-shaped. | 1530 | "7570" on bridge of self-winding mechanism. | 28,5mm x 6,47mm | 261 | 19,800 | 1965 |
| 1580 | Self wind, sweep-seconds, (hack after '72), shock protecting, anti-magnetic, round-shaped. | 1530 | "1580" on bridge of self-winding mechanism. | 28,5mm x 5,75mm | 26J | 19,800 | 1963 |
| 1600 | Manual wind, no seconds, shock protecting, round-shaped. | Basic Caliber | "1600" on hub sinking of balance wheel (and.) on train wheel_bridge. | 20,8mm x 2,32mm | 19J | 19,800 | 1964 |
| 1601 | Manual wind, no seconds, shock protecting, round-shaped. | 1600 | "1601" on hub sinking of balance wheel (and) on train wheel_bridge. | 20,8mm x 2,32mm | 19/201 | 19,800 | 1977 |
| 1602 | Manual wind, No seconds, Shock protecting, Round-shaped. | 1600 | "1602" on hub sinking of balance wheel (and) on train wheel_bridge. | 20,8mm x 2,32mm | 201 | 21,600 | 1993 |
| 1800 | Manual wind, no seconds, shock protecting, short-oval-shaped, | Basic Caliber | "1800" on hub sinking of balance wheel. | 11,7mm x 14,3mm | 17J | 21,600 | 1964 |
| 2030 | Self wind, sweep-seconds, shock protecting, round-shaped. | Basic Caliber | "2030" on bridge for self-winding mechanism. | 20,0mm x 5,40mm | 28J | 28,800 | 1970 |
| 2035 | Self wind, sweep-seconds, progress-calendar, shock protecting, round-shaped. | 2030 | "2030" on bridge for self-winding mechanism. | 20,0mm x 5,83mm | 28J | 28,800 | 1970 |
| | | | | | | | |
| --- | --- | --- | --- | --- | --- | --- | --- |
| 2130 | Self wind, sweep-seconds, (hack stop), shock protecting, round-shaped. | Basic Caliber | "2130" on bridge for self-winding mechanism. | 20,0mm x 5,40mm | 29J | 28,800 | 1983 |
| 2135 | Self wind, sweep-seconds, (hack stop), quick set day-date, shock protecting, round-shaped. | 2130 | "2035" on bridge for self winding mechanism. | 20,0mm x 5,90mm | 29J | 28,800 | 1983 |
| 3035 | Self wind, sweep-seconds, (hack stop), quick set calendar, shock protecting, round-shaped. | Basic Caliber | "3035" on automatic device bridge. | 28,5mm x 6,35mm | 27J | 28,800 | 1977 |
| 3055 | Self wind, sweep-seconds, (hack stop), quick set day-date, shock protecting, round-shaped. | 3035 | "3055" on automatic device bridge. | 28,5mm x 7,11mm | 27J | 28,800 | 1977 |
| 3075 | Self wind, sweep-seconds, (hack stop), quick set calendar, 12/24 hr hand, shock protecting, round-shaped. | 3035 | "3075" on automatic device bridge. | 28,5mm x 6,35mm | 27J | 28,800 | 1981 |
| 3085 | Self wind, sweep-seconds, (hack stop), quick set calendar, 12/24 hr hand, shock protecting, round-shaped. | 3035 | "3085" on automatic device bridge. | 28,5mm x 7,20mm | 27J | 28,800 | 1982 |
| 3135 | Self wind, sweep hand, hack stop, quick set | 3135 | 3135 on bridge | 28.5×6.35 | 31j | 28,800 | 1988 |
| | | | | | | | |
| --- | --- | --- | --- | --- | --- | --- | --- |
| 3155 | Self wind, sweep-seconds, (hack stop) quick set day-date, shock protecting, round-shaped. | 3135 | "3155" on bridge for self-winding mechanism. | 28,5mm x 6,35mm | 31J | 28,800 | 1988 |
| 3175 | Self wind, sweep-seconds, ('hack stop) quick set calendar, 12/24 hr hand, shock protecting, round-shaped. | 3135 | "3175" on bridge for self-winding mechanism. | 28,5mm x 6,35mm | 31J | 28,800 | 1988 |
| 3185 | Self wind, sweep-seconds, (hack stop) quick set calendar, 12/24 hr hand, shock protecting, round-shaped. | 3135 | "3185" on bridge for self-winding mechanism. | 28,5mm x 6,35mm | 31J | 28,800 | 1988 |
| 4030 | Self wind, Chronograph, (hack stop) shock protecting, round-shaped, 3 -dial, (start, stop & fly_back to zero). | Basic Caliber (Zenith 400) | "4030" on upper module bridge. | 30mm x 6,55mm | 31J | 28,800 | 1989 |
| 4130 | Self wind, Chronograph, (hack stop) shock protecting, round-shaped, 3-dial, (start, stop & fly back to zero). | Basic Caliber | "4130" on upper module bridge. | 30mm x 6,50mm | 44J | 28,800 | 2000 |
| 5035 | Electronic Quartz, sweep-seconds, (hack stop), quick set calendar, round-shaped. | Basic Caliber | "5035" on upper module bridge. | 29,75mm x 6,35mm | 11J | 32,768 Hz Quartz | 1977 |
| 5055 | Electronic Quartz, sweep-seconds, (hack stop), quick set day-date, round-shaped. | 5035 | "5055" on upper module bridge. | 29,75mm x 7,11 mm | 11J | 32,768 Hz Quartz | 1977 |
| | | | | | | | |