Omega Seamaster Watch
Everything You Need to Know About the Omega Seamaster

History of the Omega Seamaster Watch
In the 1930s, Omega developed the Caliber 30.10 mm movement. This beautifully engineered and built timepiece impressed all with its precision, and the company decided to enter it in major chronometer competitions in Geneva, Neuenberg and Teddington, UK. In fact, there is evidence that Omega's owners, the talented and visionary Brandt family, viewed the development of chronometers as a natural next step in the company's horological journey.
Astronomical observatories have long had an association with time measurement because of its earlier critical importance to longitude, and latter, it's significance to astrophysics and cosmology.
The word 'chronometer' has had an equally long association with observatories. It was coined by the English clock-maker Jeremy Thacker in 1714 to describe his design of a clock entombed in a vacuum chamber that protected the movement from the vagaries of humidity and atmospheric pressure.
Thacker's chronometer was accurate to six seconds a day, falling well short of the three seconds a day required to win the 20 thousand pound "King's Ransom" offered by the English Board of Longitude in the 1700s.
It was William Harrison's H5 'pocket' chronometer produced in 1772, accurate to one third of a second per day, which earned him the title of The Father of Longitude and led to the greatest breakthrough in navigation since the beginning of time.
Harrison's chronometers and their descendants allowed Britannia to literally rule the waves. Precision timekeeping in all conditions gave navigators the means to fix longitude by comparing real time with Greenwich time, and ended forever the legacy of shipwreck, misery, and death caused by not knowing where one was on the world's great oceans.
Omega Constellation chronometers were worthy ambassadors of the grand tradition of precision timekeeping. In the 1920s and 30s, highly spirited contests were held by observatories in a number of important centers in Europe. The Omega 30.10 mm won numerous contests against the most important houses of the day, often achieving victory over Rolex, the market leader in chronometers.
Omega commercially released the 30.10 chronometer in 1939. By 1946, it had built more than 100 thousand certified chronometers, many of which were used by various combatants in World War Two.
Having established its credentials through the 1940s and 50s at major competitions, Omega decided to fully exploit its reputation as a builder of precision watches, and in 1952 released the first Constellation. It branded the watch with an observatory emblem showing a night sky lit by eight stars. The emblem appeared in gold or stainless steel on the back case and was a distinctive feature of every model. The watch was also sold with a C.O.S.C (Contrôle Officiel Suisse des Chronometres) certificate of precision.
Omega launched the new brand with a modest production run of approximately 8,000 watches. This first automatic chronometer wristwatch featured a 12-sided dial that caused a sensation when it was introduced, and the Constellation soon became the company flagship, which remains so today. In 1958, Omega surpassed the Rolex Oyster-Perpetual Chronometer in numbers produced: a market dominance that lasted until 1969.
How old is the Seamaster line?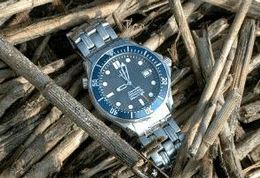 Omega's line of water resistant watches dates all the way back to 1932, and the Seamaster name was introduced in 1947. Up through the 1960's, the Seamaster models paralleled the traditional style of dress watches, such as the Omega DeVille (some were even labeled as a 'Seamaster DeVille'). While these watches were water resistant (back then, they could still use the term "water-proof"), few had functions other than basic display of the time and occasionally the date.
In the 1970's, OMEGA took the Seamaster line in a much sportier and often trendier direction.
During this decade, Seamasters took on a heavy sport and functional look and came with more diver-oriented features, such as: higher depth ratings, calibrated rotating bezels, chronograph functions, and high-visibility dials.
Omega's current Seamaster line consists of the Seamaster Aqua Terra with 150 meter water resistance, and the Seamaster Professional series (introduced in 1993) with 300 meter water resistance and diving-oriented features in a sports watch style. Other recent and generally still available models include the Seamaster 120 series with 120 meter water-resistance in a dress watch style.
The Seamaster is a diving watch, so why is the name also used on dress watches?
At the time the Seamaster was introduced in 1948, standard watches were extremely susceptible to water damage from even a dip in a sink or tub. The Seamaster was created as a line of standard dress-style watches which were "waterproof" (as they called them then), suitable for swimming and other light water activities. Their water resistance is about comparable to a 10 to 30 meter rating today. The now common diver's watch style was unknown at that time.
Ten years later in 1958, Rolex introduced the Submariner, really starting the market for the sports/diving style of watch (though other brands did have such watches even earlier).
A few years later, Omega added the comparably sportier models that were designed for even deeper water activities like diving, that need a rating of 100 to 300 meters. They maintained the Seamaster name because of their water resistant designs. This split the Seamaster line of water resistant watches into both classic dressy and more rugged sporty styles.
That continues today, with the Seamaster Aqua Terra series being the direct descendant of the classic dressy Seamaster DeVille. It's great for people who usually need a dressy watch, but still like to go for a swim.
The Seamaster Professional is the sportier variation with additional features and deeper depth ratings needed by people involved with more serious underwater activities like diving, and those that are not diving professionals, but still enjoy the ruggest sporty styling.
Today, every watch Omega makes has at least as much water resistance as those early Seamasters did. So those vintage Seamasters might seem wimpy by modern standards, but when you understand the history, they were a significant step in the evolution of water resistant watches.
What different Seamaster watches are available?
Omega currently makes several models of Seamaster watches, with numerous sub variations of color, bracelet, movement, and casing sizes. As of early 2004, the main Seamaster models in production are:
Seamaster Professional Diver
Automatic and quartz movements. Also sometimes known as the 300M; available in a full size mens, mid size mens, and ladies models). The mens models come in two different dial/hands styles: the classic "skeleton hand" introduced in 1993 and the bolder "GMT style" introduced in 1998.
Seamaster Professional Chronograph
Automatic movement only, very large and heavy watch, available in titanium, mens size only.
Seamaster Professional GMT
Introduced late 1998, automatic movement, mens size only, mens size only. Variation of the 300M with an additional GMT hand and a different look to the face and bezel.
In the 2000 model year, Seamaster line introduces many new models, all with the new dial design introduced on the GMT and Titanium Diver.
Seamaster Aqua Terra
Introduced 2003, in mens and ladies versions. Coaxial or quartz movements. Available in three mens's sizes (35, 38 and 41mm) as well as ladies models.
Railmaster
Special variation of the Aqua Terra, paying homage to the watch that inspired the Aqua Terra series. Coaxial movement only. Available in 38, 41 and 49.2mm sizes.
Seamaster America's Cup Chronograph
Seamaster APNEA
Special model with a unique timing function for the apnea free-diving breathing technique.
Recently retired Seamaster models include:
Seamaster 200M OMEGA-matic (battery-less quartz movement, mens size only)
Seamaster 120M (same movements as the Seamaster Professional Diver, available in mens and ladies)
Seamaster '150th Anniversary Limited Edition' released in 1998 with titanium case, silver dial, white gold bezel, and was limited to 1848 pieces.
Seamaster 'James Bond 40th Anniversary Limited Edition' — releasted in 2002. Essentially the classic 2531.80, but with 007 logos on the dial and clasp, limited to 10,007 pieces.
Which are the most popular Seamaster models?
Omega reports that as of 1999, the most popular variations of the Seamaster Professional Diver worldwide are the:
The full-sized James Bond automatic 2531.80
The mid-size quartz
The full-sized quartz and Mid-Size automatic
Exact popularity varies by geographic location. For example, the mid-sized is more popular in the Far East, while the full-sized is more popular in Europe and North America.
How do I translate Omega's model numbers?
Current Omega model numbers follow a mostly straightforward convention. A model number, such as 2831.80.08, can be interpreted digit by digit. The following list covers only the variations for the Seamaster Professional, GMT, and Professional Chronograph watches.
Other Omega lines use the same sequence, but the numbers represent different options. Even here, you will see odd variations between some of the codes for the Chronograph versus the Pro.
Newer variations, like the 1998 Titanium Pro Diver and the GMT also get designated somewhat less obviously. Only certain combinations of these options are available.
How to read Omega Seamaster model numbers for the Aqua Terra, Professional Diver, GMT, and Chronograph
Warning: Codes are not used consistently by Omega, use this table only as a rough guide
1 Product

2= Seamaster
2 Case / Bracket
1=Gold (yellow or white), 2=Steel (Pro 2000 bracelet) OR Titanium (Chronograph), 3=Stainless Steel and Gold, 5=Stainless Steel (Pro Diver, GMT, or Chrono) or Titanium (Pro Diver), 6=Red Gold w/Strap (Pro Diver), 8=Stainless Steel w/Strap, 9=Seamaster Pro 2000 w/Strap, 0=Seamaster Pro 2000 w/alternate bracelet (USA)
3 Size / Movement
Size/movement codes are not consistent, especially with the new models introduced in 2000.
0=Coaxial, 3=Pro Diver full-size Automatic or GMT Automatic, 4=Pro Diver full size Quartz, 5=Pro Diver mid size Automatic, 6=Pro Diver mid size Quartz, 7=Ladies Auto, 8=Ladies Quartz, 9=Chronograph Automatic
4 Bezel
Bezel codes are not consistent by color – they vary by model and case material.
1=Blue (Steel Pro) OR Gold (Gold Pro) OR Brushed Steel (Titanium Pro Diver), 2=Polished Steel (Steel Pro) OR Gold (Two-Tone Pro) OR Blue (Gold Pro) OR Polished White Gold (white Gold Pro, silver dial limited edition 150th Anniv. Pro) 3=Plain (Aqua Terra), Steel w/black numbers (Titanium Diver) 4=Black (Steel GMT or Steel Pro) OR Yellow Gold (Yellow Gold GMT), 5=Steel w/blue numbers (Steel Diver), 6=Gold (Titanium/Tantalum Chronograph), 8=Polished Steel (Steel Chronograph or GMT) OR Gold (Two-Tone Chronograph) OR Blue (Titanium Chronograph), 9=Blue (Steel Chronograph)
5 Dial
2=White, 3=Silver, 5=Black, 7=Special (such as Mother-of-pearl), 8=Blue (dark or electric)
6 Option
Currently used for miscellaneous options.
3=Blue hands (Aqua Terra), 4=Gold hands on steel model (Aqua Terra)
7 Option
0=undeclared, 3=Foldover clasp for strap models, 9=Rubber strap
8 Option
0 or not shown=standard bracelet, 1=rubber strap with steel clasp (Pro Diver) or black alligator strap (Aqua Terra), 3=rubber strap with non-steel clasp, 7=brown alligator strap (Aqua Terra), 8=blue sharkskin strap (Pro Diver), 9=green sharkskin strap (Pro Diver)
So, a model 2831.80.08 is a full-size Seamaster Professional, stainless steel case, with blue bezel and dial, on the optional blue sharkskin strap.
Should I choose the automatic (mechanical) or quartz movement?
Many of the Men's Seamaster watches offer both automatic (self-winding mechanical) and quartz movements. The Ladies' Seamaster Professional is available only with the quartz movement, except for one solid gold model introduced in 2000. The Seamaster Professional Chronograph, Seamaster GMT, and titanium Seamaster Professionals are available only with automatic movements.
There are many opinions on the subject as to which movement is better. But since they are all opinions — your choice should be made based on what works best for you. Also, there are several feature (and a few minor cosmetic) differences between the automatic and quartz movement versions of the Seamaster Professional.
Seamaster Aqua Terra and Railmaster (Omega Coaxial movements)
Auto-winding mechanical movement with exclusive Omega Coaxial Escapement and Free Sprung Balance, 44-hour power reserve.
Sweep second hand (moves in 1/8 second increments).
Movement has received a Chronometer certificate from COSC, certifying that the mechanism is capable of accuracy within -4 to +6 seconds per day.
Quick-set date and rapid date change. The date can be advanced easily from the stem. The date changes shortly after 12:00 midnight, clicking forward in a fraction of a second.
The 2403 used in the Railmaster is essentially the same, but lacks the date function.
Seamaster Professional Automatic (Omega #1120 automatic movement, also used in the Seamaster 120M)
Auto-winding mechanical movement with 23 jewels and a 44-hour power reserve.
Sweep second hand (moves in 1/8 second increments).
Movement has received a Chronometer certificate from COSC, certifying that the mechanism is capable of accuracy within -4 to +6 seconds per day.
Quick-set date and rapid date change. The date can be advanced easily from the stem. The date changes shortly after 12:00 midnight, clicking forward in a fraction of a second.
Cosmetic differences versus the quartz model: The automatic's dial has the word 'Chronometer' under 'Seamaster Professional' — indicating it has a COSC certified chronometer movement. The date window on the automatic is somewhat closer to the outer edge of the dial, due to a difference in the date mechanisms used by its movement.
The Seamaster Pro Chronograph and Seamaster GMT use different automatic movements, so have some feature differences:
The GMT has an additional hour hand on a 24-hour scale. This is usually used to represent GMT or your 'home' time.
The GMT's 12-hour hand can be easily adjusted in increments of whole hours ahead or behind the 24-hour hand. This allows an easy time zone change without altering the minutes or seconds.
The GMT lacks the quick-set date.
The Chronograph has the additional chronograph features.
Seamaster Professional Quartz (same movement used in the Ladies' Seamaster Pro and Seamaster 120M Quartz)
Jump second hand (moves in 1-second increments).
Quartz movement runs on batteries.
Highly accurate.
Slow date change — date rolls over slowly between 12:00 midnight and 1:00 am.
Low battery indication (second hand jumps in 4-second increments).
Cryptically labeled "time-zone" feature. What it really means is that from the stem, you can change the hour hand without altering the minute or seconds. Convenient for changing time-zones or moving on or off daylight savings time without having to resync the second hand with an accurate time source.
What is the accuracy of Seamaster watches?
The Seamaster automatic models have received a Chronometer certificate from COSC. This certifies that the movement measured within -4 to +6 seconds of variation per day. Like most fine watch makers, OMEGA does not bother to certify their quartz models.
Many owners on the Internet have reported their Seamasters often far exceed COSC standards in daily use. Reports of automatics staying within +/-3 seconds per day and quartz staying within +/-3 seconds per month are not uncommon. This makes the Seamaster Professional one of the better choices for a highly accurate wristwatch. Each watch is different. Mechanical watches are much more prone to variation based on how you wear and store them. Because of this, the differing variations of a mechanical watch tend to cancel each other out somewhat, making the watches usually much more accurate than the single-day allowed variations may make it seem.
Overall, since many of us have to reset our watches twice a year to comply with daylight saving time or other local time changes, if your watch stays within 1 minute of correct time between those changes, you should have a watch that is more than sufficiently accurate for normal use.
Where is the serial number?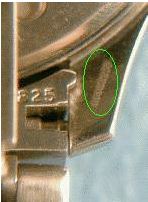 The serial number on most current Omega Seamaster models is laser etched in very small type on the back of the lug closest to the 7 o'clock position on the watch. Some newer Titanium models have it on the back of the lug closest to the 11 o'clock position. Omega reports that they do not always put the serial number in the same place.
If you know where to look, you can see that a number is there with the naked eye. You will probably need a magnifier to actually read the number. Serial numbers, except on particularly old models are 8 digits long. The Omega serial series are different — different models and model lines use different counting sequences.
For Omega watches made within the most recent decade, automatic Chronometer models usually start with a 4, 6 or 8 while quartz and non-chronometer models usually start with a 5. Only serial numbers starting with the same two digits are comparable. They are issued to the movements when manufactured, so do not represent a perfect chronological sequence of when the finished watches roll off the assembly line.
Are there any unusual or special models of the Seamaster?
OMEGA has made several special and limited edition models of Seamaster watches within the past few years.
How has the Seamaster Professional changed over the years?
The "Professional" series of Seamaster watches was introduced in 1988. Since then, the line has undergone several transformations.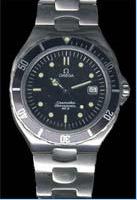 Seamaster Professional Diver 200M, circa 1988 [photo: Mike Partee]
First generation (1988): 200M water resistance; rotating bezel with toothed outer edge; Second hand with dot, hour hand has the 'Mercedes'-like symbol, just like the Rolex Explorer. Minute hand is a widening stick with pointed tip. Crown was very gear-shaped. Metal bracelet integrated into the watch, with Rolex-like folding clasp but with additional flip lock safety. Available in all steel and two-tone models, with both quartz and automatic versions. Black appears to have been the only option for dial and bezel color on the all steel models. Steel and gold models appear to have had either black or gold dials. Dial labeled 'Seamaster PROFESSIONAL 200M.'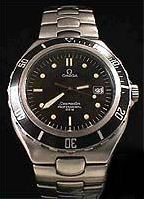 Seamaster Professional Diver 200M quartz, circa 1992 [photo: Richard]
Second generation (1992?): Essentially the same as first generation, except for revised hands. Hour hand now a simple stick, minute a simpler straight stick, crown has a finer milling on the edge instead of hte earlier gear-shape. Around this time, OMEGA also made a titanium chronograph that matched the Seamaster Professional 200, but was not labeled as a specifically water-resistant watch and did not bear the Seamaster name.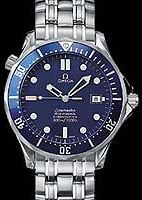 Seamaster Professional Diver 300M automatic, circa 1997 [photo: OMEGA]
Third generation (1993, unofficially called the 'James Bond' version): New case shape with more defined curves; larger crown guards; helium relief valve; outer edge of bezel now smooth sculpted; completely new bracelet style – no longer integrated into the case; strap options on steel models; new fold-lock bracelet with release buttons on sides; new skeletonized hands and red tip on second hand.
Additional pips on bezel markings between the 15 and 60 markers. Depth rating increased to 300M. Dial now has wave patterned background, markings mostly unchanged except for new 300m/1000ft depth rating. Chronograph version now water-resistant and officially part of the Seamaster line. Black dial/bezel dropped, new colors are: blue and white dials with several matching or coordinating bezel colors.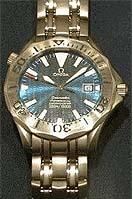 Seamaster Professional Diver 300M in Titanium, 1998 [photo: Derek Ziglar]
Fourth generation (1998): The Pro Diver in Titanium and its companion '150th Anniversary Limited Edition' was introduced with a new style, but without changing any of the existing models in the Seamaster Professional line. New dial and hands design. Dial has even more distinct hour markers. Skeleton hands dropped in favor of easier to see in dark hands like on first generation Seamaster Professional. Bolder numbering on bezel. New dial colors: semi-electric blue and silver.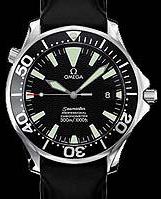 Seamaster Professional Diver 300M, 2000 [photo: OMEGA]
Fifth generation (2000): The new dial style was extended across more models in the Seamaster Professional line for new models introduced in the year 2000–but as a supplement to, not as a replacement for, the classic skeleton-hand "Bond" style models. Biggest surprise was OMEGA adding a new style bracelet.
Originally intended to replace the "Bond" bracelet on almost all models, OMEGA's USA and South American distributors rejected the change, so in those areas, the existing Seamaster bracelet link style was still available and usually the default choice on most models. The newer Seamaster bracelet uses a link style virtually identical to that on the Speedmaster — an intentional move by OMEGA with the intent of unifying the look of their sport watch lines.
How can I tell the Seamaster Pro fullsize, midsize, automatic and quartz models apart?
The numerous variations in the Seamaster Professional Diver models can be hard to tell apart. The features on the two men's sizes available on the Seamaster Professional Diver are both scaled to not appear significantly different. The mid-size even uses a slightly narrower bracelet (18mm instead of 20mm) and a somewhat smaller clasp to keep the whole watch looking the same.
So, how can you tell them apart? First, there is a visual difference in the position of the date window between the quartz and automatic movements. The date window on the quartz movement is a millimeter or so closer to the center of the dial. Second, the smaller case on the mid size means the right edge of the date window will be about 1.5 millimeters closer to the edge of the dial than it is on the full size case.
Combined, these two factors give a different position of the date window on each of the four case size/movement variations on this watch.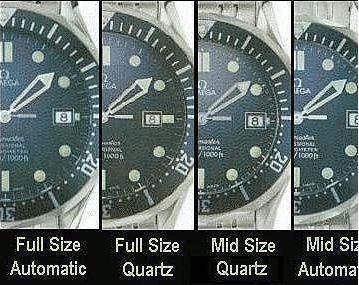 The easiest part is to tell the movement. The automatic models have four lines of text on the lower half of the dial — including the word CHRONOMETER as the third line. The quartz models have only three, lacking the word CHRONOMETER.
To tell the case sizes apart, look at the marker at the 3 o'clock position. The mid size have little to no room for a marker to the right of the date window. But the full size have room for a moderate to large marker.
What are the features of the Seamaster Professional?
The Men's Seamaster Professional full and mid-size watches have:
Highly visible hands and dial markers with large fluorescent marks.
Rotating bezel with fluorescent marker.
Case contoured around the stem to protect it from being hit.
Sapphire crystal, highly resistant to scratching
Rated for use at depths of up to 300 meters (1000 feet). The Seamaster Pro Chronograph is one of only a few watches where the buttons are sufficiently water resistant that you can use the chronograph features underwater.
Manual date change from stem without altering the time setting. (Not on the GMT.)
Models with metal bracelet have a special clasp that opens the bracelet an additional inch or so to fit over the outside of a diving suit. (Not on the GMT.)
'Helium relief valve' — a feature only needed if you are in an extended stay in a helium-rich diving bell environment. This is probably useful to only 0.0001% of the owners of this watch. (Not on the GMT and certain other models.)
Features Based on Watch Movement
OMEGA 1120*
Automatic
OMEGA 2520
Automatic
OMEGA 1438
Quartz
OMEGA 1424
Quartz
OMEGA 1164**
Automatic
OMEGA 1128*** Automatic
Used in:
Seamaster
Models

120 Auto,
Pro Diver Auto

Ladies Pro Auto

120 Quartz,
Pro Quartz

Ladies Pro,
Ladies 120

Chronograph

GMT
Based on:
ETA 2892A2
ETA?
ETA?
ETA?
ETA/Valjoux 7750
ETA 2892A2
Jewels:
23
20
6
7
25
23
Second Hand:
Sweep 1/8 sec
Sweep 1/8 sec
Jump 1 sec
Jump 1 sec
Sweep 1/8 sec
Sweep 1/8 sec
Date Change:
Rapid
Gradual
Gradual
Gradual
Gradual
Gradual
Date Set:
Quick Set
???
Quick Set
Fwd 24 hours
Quick Set
Fwd 24 hours

** The OMEGA 1164 replaced the OMEGA 1154 in 1992. The 1164 is essentially the same movement, merely with cosmetic changes to 'personalize' it with OMEGA markings instead of the generic ETA markings.* The OMEGA 1120 was introduced in 1996 to replace the 21 jewel OMEGA 1109 used in the earlier Seamaster Professionals. See the Seamaster Pro Troubleshooter for more details on this change.
*** The OMEGA 1128 is essentially the OMEGA 1120 with the addition of the 24-hour GMT hand, but lacking the quick set date.
These same ETA and Valjoux base movements are used in watches ranging from half to several times the price of a Seamaster. But each watch manufacturer varies in how much they modify, retest, or certify the movement before putting them into their watches. OMEGA makes a number of their own modifications to these already high quality movements and then has the automatic ones C.O.S.C. certified before incorporating them into OMEGA watches.
The original ETA 2892 movement was introduced in 1975. The current version is the 2892-A2. This movement is used as the basis of numerous fine watches from companies such as Alain Silberstein, Baume & Mercier, Cartier, Chronoswiss, Fortis, Longines, OMEGA, Sinn, TAG-Heuer, and Ulysse Nardin.
The Valjoux 7750 has been a similarly popular movement since its introduction in 1973. It is used as the basis of many chronographs from companies including Baume & Mercier, Breitling, Fortis, Franck Muller, Longines, Minerva, OMEGA, Oris, and Universal Genève.
Features Based on Watch Model
Seamaster
Pro Diver (mens)
Seamaster
Pro Diver (titanium)
Seamaster
GMT
Seamaster
120
(mens)
Seamaster
Chronograph
Model Numbers:
2x3x 2x4x
2x5x 2x6x
2232.30
2231.80
2×34
2x0x 2x1x
2x9x
Diameter
Official* / Bezel:
(See notes below)
in millimeters
Full 39.3/41
Mid 34.8/36
39.3/41
39.3/41
34.8/36
39.3/42
Thickness
in millimeters
Full 11.5
Mid 11
11.8
11.8
9
16.3
Weight:**
in grams
SS Full 150
SS Mid 130
Full 111
Mid ?
~167
?
SS 208
Ti ?
Watch Cases:***
SS, SS/G, G
Ti, R
SS
SS, SS/G, G
SS, SS/G, G, Ti, TT
Bracelets/Straps:***
SS, SS/G, G, L
Ti
SS, R
SS, SS/G, G
SS, SS/G, G, Ti, TT, L
Bracelet Clasp:
Pin release,
1″ Expansion
Pin release,
1″ Expansion
1-pin release
Hidden clasp
Pin release,
1″ Expansion
Pin release,
1″ Expansion
Helium Valve:
Yes
Yes
No
No
Yes
* OMEGA's method of measuring the watch's diameter is across the BACK of the watch, starting betweent he top lugs and measuring down to between the bottom lugs. Other people often measure across the bezel–causing confusing reporting of two different sizes for the same watch. But either method does not include protuberances such as the crown, crown guards, helium valve, or lugs.
** Weights are approximate and include standard bracelet. Actual weight varies based on number of links removed when bracelet is sized.
*** SS=Stainless Steel, SS/G=Stainless Steel and Yellow Gold, G=Yellow Gold, Ti=Titanium, TT=Titanium and Gold-toned titanium (Tantalum), L=Leather or Sharkskin, R=Rubber
What are the advantages and disadvantages of the Seamaster Professional?
The best features of the Seamaster Professional are:
Rugged, reliable, fashionable sports watch. Sufficiently different from the commonly seen (and heavily copied) Rolex and Tag Heuer designs.
Quality and style arguably comparable to the Rolex Submariner for about half the price. Overall, a good value for the money in its class of watch.
Tends to significantly exceed accuracy standards in its class.
Bezel not easily bumped out of position.
Well designed metal bracelet. It is very comfortable and does not catch arm hair. Has a good number of removable links, so can be sized down better than many. Clasp mechanism better than many others.
The possible disadvantages to consider are:
The full size Seamaster Professional is larger and heavier than typical men's wristwatch. The Seamaster Chronograph is even thicker and heavier. But if weight is a concern, both are now available in titanium versions which are significantly lighter than the steel versions. Wearing the watch on a leather, rubber, or sharkskin strap instead of the bracelet further reduces the weight.
For actual diving use, lacks any alarm or other dive timing features other than using the bezel to mark your time.
Bezel is hard to get a firm grip on to turn.
You can still get stylish and reliable wristwatches for a heck of a lot less money. But if you really would be satisfied with a Timex, you wouldn't have read this far, would you?
What is this Helium Relief Valve for?
The purpose and function of the helium relief valve is a common point of confusion. It has nothing to do with normal underwater diving. Neither does it have anything to do with the depth rating for a diving watch. Helium does NOT seep into the watch while the watch is in water at any depth!
To put it simply, you can completely ignore the helium relief valve. This feature is not used in any way with any form of normal SCUBA diving or anything else that involves less than a multi-million dollar deep sea exploration project.
This feature is so exotic that it really exists mostly as a curiosity. It makes the watch look more interesting and have an unique feature that other watchmakers are unlikely to copy.
What is the Bracelet Diver's Extension for and how do I use it?

Opening the diver's extension: 1) press on bracelet as shown to pop the extension open, 2 & 3) opening it fully.

Closing the extension:
1) critical first step of inserting flange at steep angle so it goes under the crossbar,
2) then fold the rest into place,
3) a little pressure and it snaps shut
The diver's extension is a portion of the bracelet clasp that, when popped open, extends the length of the bracelet by 3.1 centimeters (about 1.25 inches). This allows it to instantly change from being sized to fit on your bare wrist to the larger size needed to fit over the sleeve of a wetsuit. While interesting, this is a feature that is of virtually no use to anyone who is not a wetsuit diver. Though it could be used to wear the watch on the outside of an elastic jacket cuff in cold weather.

One critical point to note when operating the diver's extension is to ensure you have closed it properly when done. The small flange on the extension must fit under the crossbar. Failure to close it properly can interfere with the main bracelet clasp–causing the clasp to pop open unexpectedly while you are wearing the watch.
Is that wavy pattern on the dial distracting?
No. The pattern is much more subtle than most photos or jewelry store lighting would have you believe.
The wave pattern on the dial is a distinctive feature of the Seamaster line, so most of the official OMEGA photos you see of these watches go to a lot of effort to highlight the effect. While it points out this distinguishing feature, it also creates a false impression that the pattern is really bold and visually distracting. Similarly, the intense halogen spot lights used in many jewelry stores are designed to make diamonds and shiny metals sparkle dramatically. So they also over emphasize the wave effect.
But outside of the intense light in these two situations, the pattern is pretty subtile — almost more of a soft texture.
If you have concerns that the patterns might annoy you, please go see the watch at a dealer, away from the obligatory intense halogen spotlights, before making a decision.

Is the newer Seamaster Pro dial design easier to read at night?
Yes. The newer dial design introduced on the GMT and 1998 Pro Diver in Titanium and spread across the Seamaster model line starting in 2000 is easier to read at night than the skeleton hands on the classic 'James Bond' style Seamaster Professional.
But don't discount the older design too quickly. Many people still prefer the skeleton hands and find them still easy to read at night. The greatest limitation of the skeleton hands at night is that they have little to no glowing down the length of the hands — mainly a round or triangular shape at the end of the hand. This may cause your eyes to take a couple of seconds longer to focus on and identify which shapes are the hands and which are the hour markers before you can tell the time.
On the other hand, a number of people found the large glowing hands of the new design to be too bright and distracting at night. So as with many aspects of these watches, make your own decision based on what suits your taste and needs best.
To give some visual comparison, here is a computer generated illustration comparing how the two dials designs appear at night. Both are reading the same time of 10:10:30.
Hey, isn't there a James Bond Seamaster Pro with black dial and bezel?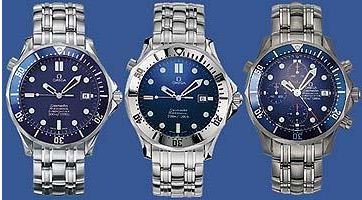 No. while many models of the OMEGA Seamaster have been made with black dials and black bezels, OMEGA confirms that the skeleton-hand version of the Seamaster Professional — including both the Professional Diver and Chronograph (commonly known as the 'James Bond' versions, introduced 1993 and still available in 2000) have never been made with either a black dial or a black bezel.
The prior versions of the Seamaster Professional (1988-1992, known as the 'pre-Bond' versions) did have black dials and black bezels. It resembles the 1993-2000 version enough that the two are sometimes confused.
Later versions, starting with the Seamaster GMT (1998) and Seamaster 'America's Cup' Limited Edition (1999) included black dials with steel or white gold bezels. The black dial resurgence continued with the additional Seamaster Pro models introduced in the 2000 model line including many with black dials accompanied by black, steel, or white gold bezels.
Yet none of the editions that have had black dials or black bezels have had the skeleton hands. So if you see a skeleton hand Seamaster Professional which appears to have a black dial or bezel, then there are only two explanations: you are misperceiving the color, or the watch is one of the counterfeit versions that were made in black — despite that being an inaccurate reproduction of the original watch.
Misperceiving the color is not unusual. People can easily mistake the dark navy blue on the 'James Bond' Seamaster Professional Diver for black. This mistake occurs from several simple causes:
Blue shades are harder than most colors for people to discern because the human eye has a relatively lower density of blue cones (color receptors) in the optical center of the eye.
Dark blues are inherently harder photograph and reproduce, since they are lower energy wavelengths — and become hard to differentiate from the extremely low to zero light energy reflecting from a black surface.
Printed photos and on-screen images are notorious for inaccurate or misleading color reproduction. So do not overly trust them as accurate indications of the color or the watch.
The intense halogen lighting of a jewelry store is designed to make diamonds sparkle. But dark blues can be washed out by the overpowering light and other bright colors reflected by or onto the watch. This effect is particularly prominent with the shiny steel-bezel models.
What are the features of the Seamaster Aqua Terra?
The Seamaster Aqua Terra watches have:
The new OMEGA Coaxial movement, not available in other models of the Seamaster series.
Many of the time/date models also available with a precision OMEGA quartz movement.
Offered in four sizes: 35, 38 and 41mm case diameters for gents and 28mm for ladies.
Also offered in a 42.2mm gents chronograph.
Available in steel, steel and gold and all gold models with a variety of dial and hand colors.
Sapphire crystal, highly resistant to scratching.
Sapphire display backs are standard on the Aqua Terra so you can see the operation and quality of finish on the movement. Thank you OMEGA for listening to your customers!
As with all OMEGA models incorporating Coaxial movements, OMEGA offers a three year warranty instead of their usual two-year.
Models on a factory strap come standard with the OMEGA foldover clasp.
Rated for use at depths of up to 150 meters (500 feet).
Manual date change from stem without altering the time setting.
What are the features of the Railmaster?
The Railmaster watches have:
The regular 38 and 41mm models, available in steel or yellow gold, use the new OMEGA 2403 Coaxial Chronometer movement, which is unique to the Railmaster.
A 42.2mm Chronograph version, available in steel only, uses the Omega 3205 self-winding chronograph Chronometer movement, which is unique to the Railmaster chronograph.
The 49.2mm oversized version, available in steel only, uses the Omega 2201 pocket watch movement with subseconds display.
Not currently offered in a ladies version.
All version of the Railmaster are available only with a black dial.
Another unique characteristic of the Railmaster is that — consistent with the original 1957 Railmaster — none of the models have a Date feature.
Sapphire crystal, highly resistant to scratching.
Sapphire display backs are standard, so you can see the operation and quality of finish on the movement. Thank you Omega for listening to your customers!
The Railmaster models incorporating Coaxial movements have a three year warranty instead of their usual two-year.
Models on a factory strap come standard with the Omega foldover clasp.
Highly visible hands and dial markers with large fluorescent marks.
The design of the 1957 Railmaster was the inspiration for the Seamaster Aqua Terra series. Though the majority of Aqua Terra models use a dressier approach with their narrow stick hour markers, minimal luminescent surface area and lack of Arabic numerals, Omega chose to make a few unique models that use the complete, high-legibility, dial design of the original Railmaster.
However, when the modern Railmaster was first introduced, it was only one style of metal and dial color, available in just two sizes. So it did not merit becoming a whole line of its own. Though it has since become a hit in the market, encouraging OMEGA to add a number of other variations.
How does the current Railmaster compare to the original from 1957?

OMEGA Railmaster from 1957

Omega Railmaster from 2003
Years:
Introduced 1957
Available through 1962
Introduced 1957
Available through 1962
Case diameter:


??
Regular: 38mm or 41mm
Oversized: 49.2mm
Movement:


OMEGA 284, 285, 286
17 jewels, manual wind
OMEGA 2403 Coaxial, automatic, chronometer in the 38 & 41mm models or OMEGA 2201 manual-wind with sub-seconds in the 49.2mm model
Dial and hands:
Black dial with luminous hour markers and radium luminous hands of "Broad arrow," "Dauphine" or "Stick" type.
Black dial with luminous hour markers and SuperLuminova luminous hands of "Broad arrow" type.
Crystal:
Armoured hesalite
Synthetic sapphire
Bracelet:


Leather only
Leather with foldover clasp or metal bracelet
Water Resistance:
60 meters
150 meters
Case:
Stainless steel with screw-in crown, metal case back
Stainless steel with screw-in crown, sapphire see-thorugh display back
Price:
1960 Retail Price (Switzerland): CHF 285 (About 70 USD back then)
2004 Retail Price (USA, 38mm on strap): USD 2395 (About 3000 CHF)
Special Features:
Special thick mat black dial (1 mm vs. typical 0.4 mm) and extra magnetic shielding — designed specifically for scientists, technicians, electricians and others who work within close distance of powerful electric currents
Sapphire see-through display back, showing off the movement inside. OMEGA Coaxial movement with free-sprung balance (38 and 41mm models only)s, offerring reduced wear and greater stability of operation over long periods of time.